Jegeg Bali Cycling Tours
Bali Cycling and Rice Paddy Walking Tour
Get off the beaten trek , see the real Bali countryside and learn about Bali first hand.
Join us on our bike tour see the real of Bali contryside and learn about Balinese culture.
We start our bike tour by pick you up at the hotel by A/C car or van.
Then we drive our costumer to Tegalalang rice terrace to see the famous rice terrace in Ubud.
We also will visit coffee plantation to saw how the processing making coffee from
grow coffee plant till became coffee.
Our friendly guide will leader you ride bike trough to villages and Rice field with hardly any traffic for about 2.5 hours.
We ride the bike mostly downhill long ride our guide will take you stop at rice farm, temple,
school he will give you detail explanation about rice farm and Balinese culture.
During the trip you have many opportunities to stop and take photo.
We will finish ride the bike at waterfall.
The end of the tour we serve you Indonesia lunch at our Balinese home compound.
Tour Includes:
Pick up and return to your hotel by A/C car
Mountain bike and use of safety helmet
Fruits, mineral water on tour, and cold towels
Friendly and experienced local guides in depth of explanation Balinese traditional culture
Lunch at our Balinese home compound
Tour Price :
IDR 500,000 per person / adult pickup in UBUD
IDR 550.000 per person / adult pickup in NUSA DUA, KUTA, SANUR, CANGGU, SEMINYAK
IDR 350.000 for a child under 12 years
Baby seat IDR 150.000
Pick up time:
Ubud 8.30 am.
Sanur 7.45am
Nusadua 7.30 am
Kuta, Legian, Seminyak
Canggu 7.30 am
Other Bali Adventures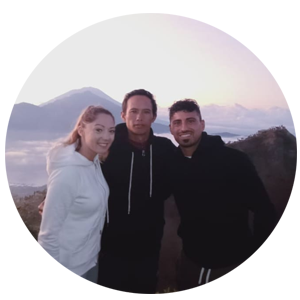 MOUNT BATUR TREKKING
We start our tour by picking you up at your hotel to the beautiful view of mountain Batur. Our trekking guide will take you trekking approximately 2 hour

US $ 75 / person
( min 2 persons)
HALF DAY COUNTYRSIDE CYCLING TOUR
We pick up at hotel than drive to visit coffee plantation to saw you about the coffee plant and other plant that we growing and
US $ 35 / person
( min 2 persons)
RICE PADDY WALKING TOUR
Come join us on our rice paddy walking / trekking to make your holiday feel complete in Bali. We'll pick you up at your hotel by A/C car then drive you to the start
US $ 35 / person
( min 2 persons)
BALI RAFTING ADVENTURE
Bali Rafting Tour is a Bali Activities / Adventure Tour Packages to enjoy wide range of white water rafting adventure in the paradise island of Bali


US $ 45 / person
( min 2 persons)
We are a family of 5 kids and 5 adults. Our city kids learned about coffee and rice farming and the simple & beautiful Balinese life during the tour. Our... read more guide Putu, was very patient and friendly with the kids. We ended the tour at their family home where we were served delicious Balinese food. One of our boys declared the sate ayam served the best sate in the world. The family also brought us around their house for a tour and our little ones were intrigued by how food was prepared via traditional wood fired cooking methods instead of the usual gas stoves they see at home. Highly recommended for families who would like to experience Balinese life in a day.

Huijing L


June 16, 2023

Best Bali activity ever! - As a frequent tourist to Bali, this has given us the most authentic Bali experience so far. The cycling tour of villages and rice paddies was AMAZING! Our day started... read more by being picked up from our resort by Ketut our driver and Wayan our guide. We were taken to the scenic Tegallalang rice terraces, with some of the most beautiful and picturesque views of the region. We then started out on bikes through the villages and paddies, all the while coasting effortlessly downhill. Wayan stopped frequently explaining the rice growing and harvesting processes in detail. His indigenous knowledge and sharing of culture, rituals and beliefs was wonderful to hear whilst on our tour. We stopped off at Taman Sari waterfalls for a swim in the natural pool, before being taken back to his own house and compound for an extensive and authentic home-cooked meal.
The whole experience was amazing. Equipment was well maintained, entrance fees were included in the price, as well as water for the ride, and photo stops whenever we required.
Can't recommend highly enough. Family run tour company which we will utilise again for a range of other activities. Thank you so much!

vicg226


June 5, 2023

We had the best experience with Wayan and Kettut as they guided us on a bike tour from Ubud.
So much information was given on how the people live in... read more harmony with their environment.
Winding through the local streets and stopping at a wonderful waterfall for a quick dip then kindly invited to eat lunch with Wayans family.
An amazing meal to end a great day in Bali .
Thank you Wayan

juliemV9247BT


June 5, 2023
Photo Gallery & Video